Welcome to Akiko Aoki Voice Studio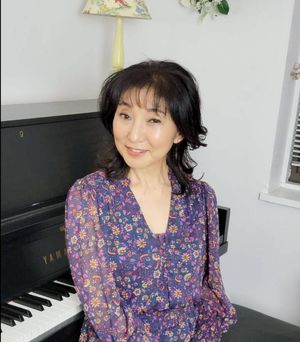 What are your top musical goals? 
Perhaps it is to sing as boldly as Adele or riff your way to LA like Ariana Grande. 
Even if you achieve those goals, if the voice is left weak and damaged, the amount of time that the voice can be enjoyed will be cut short. 
I, after experiencing voice damage, would conclude that my artistry can not live on without the care that must support it. Alongside that comes the vocal technique which leads to artistic freedom. So, I aim to share methods which foster better physical and more artistically flexible singing. I have studied at Berklee College of Music majoring in Performance, studied Somatic Voice Work, and done much of my own research. From all of the knowledge and experience I have experienced both on the inner workings of the voice and in working professionally as a musician, I simply want to pass what I know down to who needs it. 
Lastly, it is imperative to understand that technique and ability is only 50% of what makes a singer a good one. It is the story telling and passion the singer brings to the stage that makes it impactful. So, ultimately, the health and technique is all a framework for artistry. 
I look forward to exploring what you have to share with the world! 
Please sign up my lesson via contact section includes your questions and contact info.
I would like to put my reference with the full application.. "Your voice at its best" By David Blair Mcclosky Somatic Voice Work By Jeanie LoVetri  and Dr. James Burns at MGH's voice center 
---
Lesson Fee 
Akiko offers voice lessons both in person at her studio(near Boston MA) and online via video call(zoom or skype). Akiko has been a voice coach for over 30 years and has helped many to reach musical/voice goals. 
Vocal Anatomy of larynx and vocal organe. 
Relaxation,Breathing, 
Vocalize, 
Pitch practice 
Pronunciation, Articulation, 
Jazz phrasing, Jazz improvisation 
Stage presentation, 
Sing with power, Develop stamina, 
Audition prep, 
How to sing well with KARAOKE 
All genres. 
Tuition :Drop in session 
30 minutes $40 each 
40 minutes $50 each 
60 minutes $70 each 
12 weeks commitment 
30 minutes $420 
40 minutes $550 
60 minutes $750 
Private lesson at your home 
Travel fee 
Within 10 Mile: $10 for round trip 
Within 20 Mile: $20 for round trip